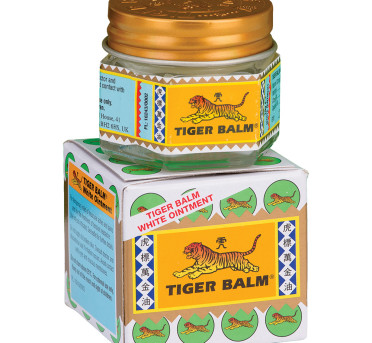 The Miracles of Tiger Balm
Tiger Balm is commonly used as topical cream to treat inflammation and muscle aches. Although it contains some menthol, it has been used as an alternative to products with higher concentrations of menthol (i.e. Icy Hot and Bengay), especially for those who are sensitive to the chemical.
When Tiger Balm Red or White applied to the skin, the rubefacient and analgesic properties provide symptomatic relief from the pain and discomfort associated with the muscular aches and pains of muscles and joints, arthritis pain, rheumatism pain and backaches. The active ingredients in camphor and the natural essential oils in Tiger Balm dilate the peripheral blood vessels and bring blood closer to the skin's surface. This produces increased circulation and warmth. The increase in blood flow speeds up the healing process. This also increases the temperature of the skin and the sensation of warmth serves as a distraction from the pain. The local analgesic effect reduces the sensation of pain.
Composition
| Ingredient | Red | White | |
| --- | --- | --- | --- |
| Menthol | 10% | 8% | |
| Camphor | 11% | 11% | |
| Dementholised mint oil | 6% | 16% | |
| Cajuput oil | 7% | 13% | |
| Clove bud oil | 5% | 1.5% | |
The remainder is a petroleum jelly and paraffin base. The packaging label states that the active ingredients are menthol and camphor. The original Tiger Balm Red and Tiger Balm White have 25% of camphor
| | |
| --- | --- |
| Active Ingredient | Actions and Traditional Use |
| Camphor | Acts as a counter-irritant to produce a feeling of warmth and then a soothing coolness to help relieve pain. Camphor also acts as a rubefacient, meaning it increases blood flow |
| Cajuput Oil and Cassia Oil (Tiger Balm Red only) | Works as a stimulant to create a sensation of warmth |
| Clove Bud Oil | A highly aromatic oil that acts as a local anaesthetic to temporarily relieve pain |
| Mint Oil and Menthol | Menthol dilates the blood vessels to produce a feeling of coolness and a temporary pain relieving effect. |
Tiger Balm Red – For the temporary relief of muscular and joint aches and pains, arthritis pain, rheumatism pain and backaches.
Tiger Balm White – Use as a chest rub to relieve nasal congestion. Chest rubs have been used since ancient times to relieve symptoms of nasal congestion. It is the vapours which help relieve nasal congestion. Chest rubs are applied topically so they don't cause drowsiness or interact with other medications. It can also be used for the temporary relief of muscular and joint aches and pains and arthritis pain.
What are the other uses of Tiger Balm?
1. Stung by a mosquito? Tiger balm can help take away the itchiness by applying it directly to the sting.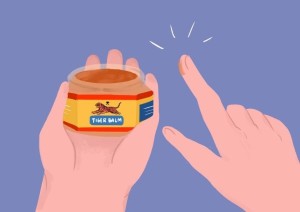 2. Tiger balm is the perfect insect repellent, as mosquitos and wasps do not like its strong scent. Leave a tin of tiger balm in every corner of the (bed)room during summertime, and leave the lid open. Mosquito's will not enter a room that reeks of tiger balm.
3. Wooden or bamboo furniture affected by bugs can benefit from treatment with tiger balm. Put some balm on every termite hole of the affected furniture, and they will die out.
4. For those with rheumatic pains, tiger balm can be used as a painkiller by applying it in the lower back area, legs, and directly on sore muscles and bones. Apply as many times as necessary.
5. You've been painting the house, and now there are paint stains all over your hands and arms that are not easy to remove by water. Put some tiger balm on a cloth and thoroughly wipe your skin with it. After a couple of minutes, the paint will start letting go, and you can easily pull it off.
6. Weibo suggests that a bad body odor can be cured by the longtime use of tiger balm. Regularly apply tiger balm to the body, the list suggests, and the bad body odors will disappear. You will reek of menthol instead.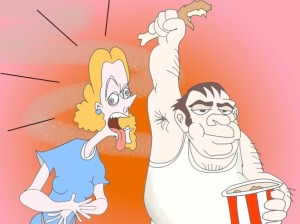 7. Got diarrhea ? Rub some tiger balm in and around the navel area, and cover it with the palm of your hand for two or three minutes to let the hotness work on the belly. You can also rub a little bit of balm in between the tailbone and anal area for full effect, the list suggests.
8. For the early signs of a soar throat, apply tiger balm around the neck area before sleeping. Generously rub it around the neck with the palm of your hand, and your throat will feel better in the morning.
9. For mild burns: lightly apply the balm to the afflicted parts. It can help alleviate the pain and avoid blisters. The earlier the balm is applied, the better.
10. Tiger balm is an excellent remedy against headaches. Rub some tiger balm on both temples and reapply if necessary. Be careful not to get the balm in your eyes.
11. When you got a cold and have a stuffed nose, it might help to put some balm right underneath and around the nostrils to let your nose clear up.
12. If you get carsick or seasick easily, moisten the lips with some balm to prevent nausea.
13. Just as tiger balm might help when suffering from diarrhea, it might also help with constipation. Rub some balm around the belly area to ease the stomach.
14. German soccer players have discovered that applying some balm to your chest and calves can help to alleviate the pain associated with fast running.
15. For those suffering from cold feet in winter, tiger balm might be the solution. Rub the cream into the feet to help stimulate and improve circulation.
16. Bye bye bad smells! Freshen those stinky sneakers and shoes by putting some open packages of tiger balm where you keep your shoes.
There is no product to show
FREE SHIPPING
Ut tellus dolor, dapibus eget, elementum vel, cursus eleifend, elit. Aene poris.