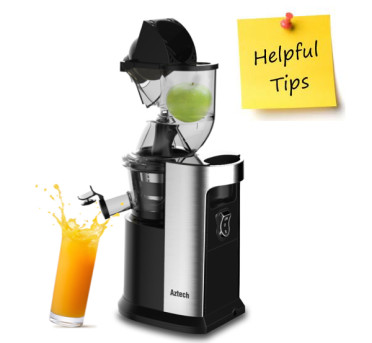 Below are some useful tips for the Slow Juicer users: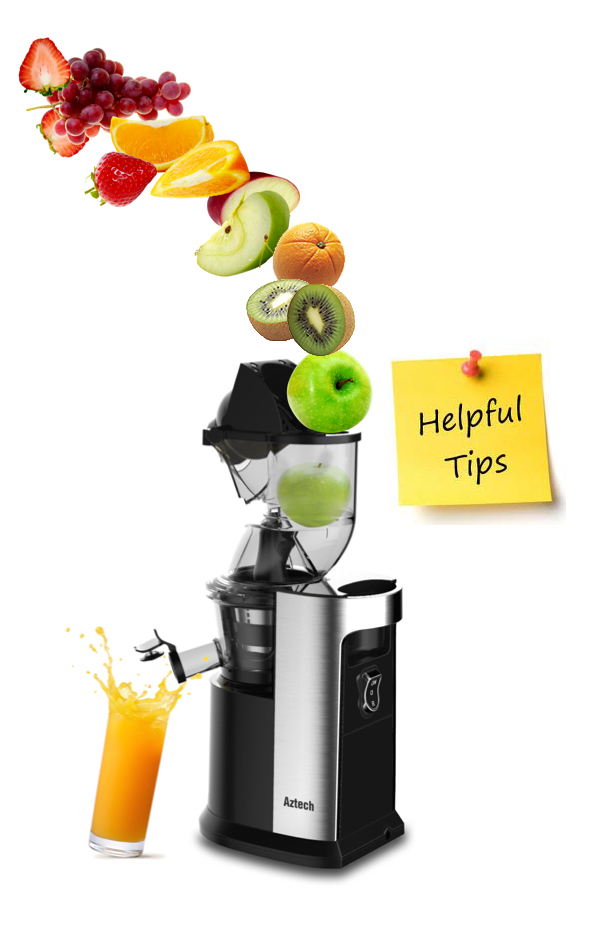 Skins, Stems and Seeds
Skins Juicing with the skins on is a personal preference with most produce.
Stems The only stems that are beneficial to process are grape stems. All others should be removed as they have nothing to offer.
Seeds Removing seeds is discretionary due to certain health risks associated with certain produce
The Power of Pulp
We like to say that with the Fusion Juicer, nothing is wasted, that's why we have also included some easy food recipes for soups, muffins, salsa, and more If you like pulp in your juice, take some from the pulp collector and add it back to your juice with a quick stir to mix it in
Keeping the Pulp Collector Clean
When juicing in large volume be sure to empty the pulp collector often Larger quantities of produce can cause the pulp to back up into the filter causing the motor to shut off Insert a plastic bag inside the pulp collector When you are done juicing, the bag can be lifted out and disposed of easily leaving the pulp collector clean
Do Not Juice!
Some fruits and vegetables cannot be juiced due to their inability to produce juice Although they are unable to be juiced, that does not mean we should not enjoy them on a daily basis as part of a healthy diet Examples are: avocado, banana, and coconut. Never use the green tops of rhubarb Oxalic acid is toxic in the leaves There are so many other healthy fruits and vegetables available that it's just easier and safer to skip rhubarb as a juice source.
The right technique
When juicing a variety of ingredients with varying textures start with the softer textured ingredients then change to for harder texture ingredients. If you are juicing herbs, sprouts or leafy green vegetables either wrap then together to form a bundle or juice them in the middle of a combination of ingredients to obtain the best extraction. If juicing herbs or leafy green vegetables on their own, the juice yield will be low due to the nature of centrifugal juicing, it is advised to juice them as with a combination of other fruit and vegetables.
All fruit and vegetables produce different amounts of liquids. This varies within the same group i.e. one batch of tomatoes can produce more juice than another batch. Since juice recipes are not exact, the precise quantities of any juice are not crucial to the success of a particular mixture. To extract the maximum amount of juice always push the food pusher down slowly.