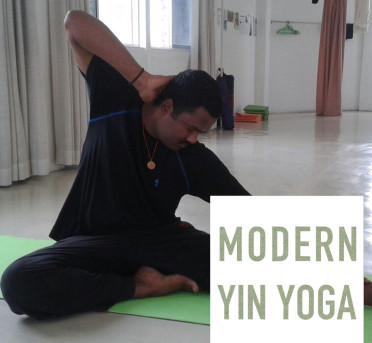 Yin Yoga is based on the Taoist concept of Yin and Yang, which are opposite and complimentary principles in nature. Its earliest form in the West was Taoist Yoga, which was founded by martial arts expert Paulie Zink.
In 1996 Sarah Power reinvented this practice as Yin Yoga. While Paulie Zink's Taoist Yoga was a combination of active Yang and quiet, static Yin practices, Sarah Power's Yin Yoga focused on the Yin practice while increasing the emphasis on meridian theory, making it a perfect complementary practice to all the Yang yoga styles (power Yoga, vinyasa, etc) currently abundant in fitness studios around the world, as well as for people engaged in various Yang type activities (cycling, running, strength training etc).
What is Yin Yoga? Yin is the stable, unchanging, unmoving, hidden aspect of things. Yang is volatile, changing, moving, and revealing. 
In the body, the relatively stiff connecting tissues (tendons, ligaments, and fascia) are Yin, while the more mobile and pliable muscles and blood are Yang. 
A Yin Yoga class usually consists of a series of long-held, passive floor poses that mainly work the lower part of the body (hip, pelvis, inner thighs), are held for up to five minutes, and sometimes longer.
The key benefits of Yin Yoga:
Brings psychosomatic stillness, calm, and equilibrium.

Stress and anxiety reduction

Improved circulation and improved flexibility

Fascia release and greater joint mobility

Vitalize the internal organs through improved flow of chi through meridian stimulation

Reduces stress or confusion of trying to catch up with complex routines. Yin reveals beauty in simplicity yet is effective and deeply relaxing. Longtime practitioners have no trouble practicing by themselves when travelling/out of reach of a yoga studio.

The longer holds as well as principle of practicing when muscles are cold(as opposed to getting the heart rate up beforehand to warm up the muscles) enables connective tissue to be stretched and rehabilitated. In fact 'hold' is an inaccurate word; rather, in Yin Yoga, we melt and release into a pose.
Find out where you can find the nearest Yin Yoga Class here