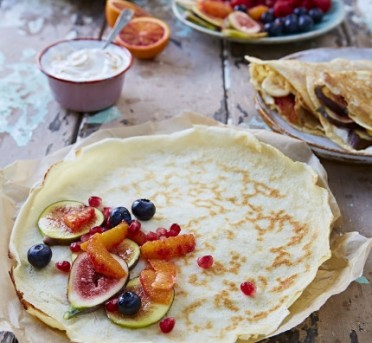 SIMPLE CREPE-STYLE PANCAKES
A crêpe or crepe is a type of very thin pancake, usually made from wheat flour (crêpes de froment) or buckwheat flour (galettes). The word is of French origin, deriving from the Latin crispa, meaning "curled".
Makes : 8
Cooks in 15 Minutes plus resting
Difficulty : Not Too Tricky
Ingredients
3 large free-range eggs

125 g plain flour

250 ml milk

unsalted butter
Method
Place the eggs, flour, milk and 1 pinch of sea salt in a blender and blitz until smooth, then pour into a bowl. Leave to one side for 15 minutes.Place a large non-stick frying pan on a medium heat. Once hot, add a small knob of butter (or a drizzle of olive oil if you want to be healthier) and let it melt. Tilt the pan so the butter coats the surface.Pour in 1 ladle of the batter. Lift the pan off of the heat and tilt it so that the batter spreads all over the base. Place the pan back on the heat for 1 to 2 minutes, or until it starts to come away from the sides and you can remove it easily from the pan.Once golden underneath, flip the crepe over and cook for a further minute until cooked through. Serve straightaway with your favourite topping.
Tips
Swap 75g of plain flour for wholemeal to give pancakes lovely texture and flavour.To make more American-style pancakes, swap the plain flour for self-raising, dolloping ladlefuls of batter into the pan without spreading it around the base.
There is no product to show
FREE SHIPPING
Ut tellus dolor, dapibus eget, elementum vel, cursus eleifend, elit. Aene poris.