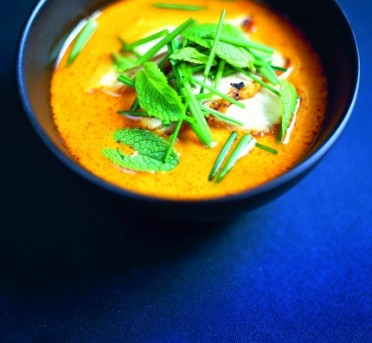 The flavor combinations in this creamy yet light soup are complex, but making it is very easy. Like the best appetizers, the soup wakes up the palate and is not too filling.
Difficulty :
Not too tricky
Ingredients
1 kg pumpkin
2 shallots
75 g ginger
a few sprigs of fresh herbs , such as chives, mint
extra virgin olive oil
1 litre organic vegetable stock
125 ml coconut milk , plus extra to serve
½ tablespoon chilli powder ( you can reduce this if you don't like your soup too spicy)
1 lime
Method
Deseed and roughly chop the pumpkin, peel and chop the shallots, then peel and finely grate the ginger. Pick and finely chop the herbs.
Place the pumpkin, shallots, ginger and some oil in a large saucepan and saute until soft.
Add the stock, coconut milk and chilli powder. Season, then bring to the boil and simmer for 40 minutes.
Blitz in a food processor then serve with the fresh herbs, lime juice and a splash of coconut milk.
FREE SHIPPING
Ut tellus dolor, dapibus eget, elementum vel, cursus eleifend, elit. Aene poris.