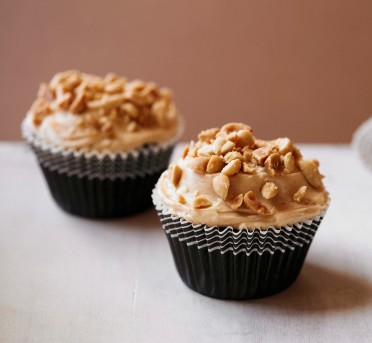 PB & J Cupcakes (Peanut Butter and Jelly)
This recipe combines best of both worlds, tasty cupcake with peanut butter and jelly that is nutty and sweet at the same time.
Cooks : In

50 minutes plus cooling
Difficulty :

Not too tricky
Ingredients
For the cupcakes
250 g self-raising flour

250 g caster sugar

½ teaspoon bicarbonate of soda

270 g unsalted butter , softened

4 large free-range eggs

100 g peanut butter

2 tablespoons whole milk

¾ X 340 g jar of quality seedless raspberry jam or any jam that strikes your fancy
For the peanut crumb
100 g peanut butter

100 g icing sugar
For the buttercream icing
300 g unsalted butter , softened

120 g peanut butter

540 g icing sugar

4 tablespoons whole milk
Method
Preheat the oven to 170°C fan/375°F/gas 5. Sift the dry cupcake ingredients and 1 pinch of fine sea salt into a large bowl, add the butter, eggs and peanut butter, then beat for 60 seconds with an electric mixer (I prefer the free-standing type). Pour in the milk and whisk for 20 seconds, or until well combined. Scrape down the sides of the bowl with a spatula, then give the mix a final blast for 30 seconds to make sure it's all incorporated. Fill the paper cases two-thirds full with mixture, but don't bother to smooth it out. Bake for 20 minutes, or until they spring back when touched. Leave to cool slightly, transferring to a wire cooling rack after 5 minutes.
Meanwhile, make the peanut crumb. Place the peanut butter in a food processor, sift in the icing sugar and whiz for 1 to 2 minutes to make small,delicious crumbs, then set aside.
For the icing, beat the butter and peanut butter with an electric mixer for 5 to 6 minutes, or until pale and fluffy. Sift the icing sugar into a large bowl, then add to the butter in two stages, beating well between each. Pour in the milk and beat for a further 3 to 5 minutes, or until well combined. Once the cupcakes are cool, poke a hole into the middle of each with a chopstick, twist to widen the hole, then use a piping bag to fill each one with a good squeeze of jam. Decorate with the icing, top with a blob of jam, if you like, and a sprinkling of peanut crumb to finish, then enjoy.
Serving Suggestions :


Note : Feel free to use smooth or crunchy peanut butter – whichever you prefer. If you wish to do things the easier way, you can opt for the Morgan Cupcake Maker
There is no product to show
FREE SHIPPING
Ut tellus dolor, dapibus eget, elementum vel, cursus eleifend, elit. Aene poris.