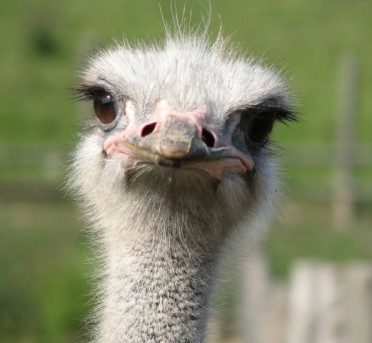 Ostrich sprints down Federal Highway is now safe
An ostich was sighted bolting down the KL Federal Highway yester at around 3pm, caused quite a stir.It is arguably among the most bizarre sightings ever caught on camera on a highway in Malaysia, as ostriches aren't even a native species to the country.
The owner Darren Chow said that Chickaboo escaped from the open window of his Toyota Hilux during the journey to the farm, Ostrich Wonderlands in Semenyih.
"It was an embarrassing incident.
"She normally sits quietly in the Hilux, she has never attempted to jump out before. But this time, she jumped out of the window and ran," he said.
Thankfully, Good Samaritans helped to guide Chickaboo to the highway divider to prevent her from running into oncoming traffic.
They managed to help Chickaboo into the car and transported her back home.
"She certainly had a long exercise," Chow said with a laugh, adding that he was thankful for everyone's help in securing Chickaboo.
"She is completely fine now. She is drinking and her bowel movement is good, so that means that she's physiologically well and that she's not in shock," he said
Chow said that Chickaboo is "very affectionate" and would follow him around everywhere.
"She is extremely curious, very greedy, and is hungry all the time," said Chow.
"She gets along well with my Husky. She will sleep with my Husky and hangs around with a couple of turkeys and dogs.
"But she has built a really close relationship with my Husky," he added.
Chow said he was on his way to return Chickaboo to the farm he bought her from when she made her great escape.
He said that she was getting bigger and needed more space to run around, adding that neighbours were not supportive of him keeping an ostrich as a pet.
The video of the flightless bird speeding down the fast lane at about 3.20pm was uploaded by Jeff Sandhu on social media website Instagram.