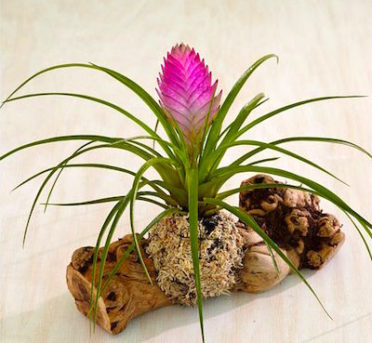 Bromeliads are good at removing toxic chemicals from the air, new data show.
The humble bromeliad, found in homes across America, is actually a star when it comes to cleaning up the air.
With their stiff leaves and large spiky flowers, bromeliads can add drama to a plant stand or window sill. They are not the flashiest of houseplants. Still, some pollution scientists are ready to give them raves. Their new data show these plants are superstars when it comes to cleaning the air.
Paints, furniture, photocopiers and printers, cleaning supplies and dry-cleaned clothes can all release a family of toxic gases into indoor air. As a class, these gases are known as volatile organic chemicals, or VOCs. Inhaling a number of them can cause dizziness, allergic reactions — even asthma. Long-term exposure might lead to liver damage, kidney damage or cancer.

This is important because people often can't smell these chemicals. They also can't stop breathing when a room's air becomes polluted, notes Vadoud Niri. He is a chemist at the State University of New York at Oswego. And once VOCs enter a room's air, there's no way to pull them out again. People can't vacuum them out.
But certain types of greenery can suck the pollutants up, which keeps them safely away from us.
A single bromeliad houseplant can remove at least 80 percent of six different VOCs from the air inside a 76-liter (20-gallon) container, Niri found. In tests, other houseplants also filtered out VOCs. But none performed as well as the bromeliad.
Niri presented his group's new data on August 24 at the annual meeting of the American Chemical Society in Philadelphia, Pa.