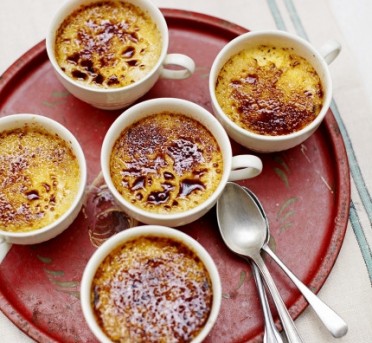 In Britain, a version of crème brûlée (known locally as "Trinity Cream" or "Cambridge burnt cream") was introduced at Trinity College,Cambridge, in 1879 with the college arms "impressed on top of the cream with a branding iron", though crème brûlée itself was not invented at Cambridge.
Serves: 6
Cooks In : 1 hour plus chilling
Difficulty :Not too tricky
Ingredients
150 ml double cream
250 ml milk
1 vanilla pod (replace with vanilla essence if unavailable)
3 large free-range egg yolk
40 g sugar , plus extra for the crusts
Method
Preheat the oven to 150ºC/gas 2.
Place the cream and milk in a small pan. Split the vanilla pod, scrape out the seeds and add to the pan with the pod. Bring to a gentle simmer over a low heat.
Beat together the egg yolks and sugar.
Discard the vanilla pod from the cream mixture, then slowly pour it into the yolk mixture, stirring well to combine.
Pour the custard into 6 x 100ml ovenproof dishes, ramekins or teacups.
Place in a deep roasting tray and fill the tray with warm water to reach halfway up the sides of the dishes. Bake for 35 to 45 minutes, or until the custards have set. Remove from the oven, leave to cool, then chill until needed.
When ready to serve, sprinkle each dish with a little extra sugar and use a blowtorch to caramelize it. Alternatively, place the custards under a hot grill, keeping an eye on them to ensure the sugar doesn't burn and the crusts should be a lovely golden colour.
Once coloured evenly, allow the sugar to cool until hard, then serve.
FREE SHIPPING
Ut tellus dolor, dapibus eget, elementum vel, cursus eleifend, elit. Aene poris.