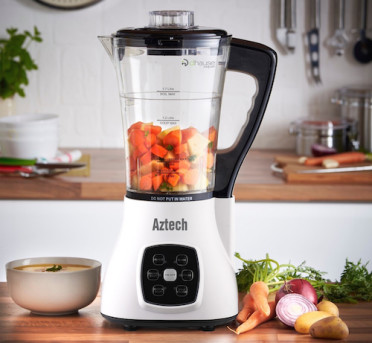 Aztech Multifunction Soup Maker ASM800 

Review
Aztech multifunction soup maker ASM800 is the ultimate kitchen device when it comes to soup making.
This soup maker is a great convenience as it enables you to make delicious and healthy soup within thirty minutes. Buy Aztech Multifunction Soup Maker ASM800 on D'hause.
Using ingredients of your choice, Aztech soup maker will enable you, in just a few steps to serve your family and friends different types of fresh soup flavors right from your kitchen. All you simply do is cook, blend and then serve.  To prepare your favorite soup, all you need to do is add your vegetables and seasoning to the Aztech soup maker bowl. The bowl is large enough as it has a capacity of 1.7L. – Big enough to make enough soup for the family. You can get smooth soup in just 20 minutes, while those who prefer a chunky and hearty soup, you should give it at least 30 minutes.
Why You Should buy Aztech Multifunction Soup Maker ASM800?
You can create the best homemade soup and smoothies using fresh ingredients in easy way.

Its versatile functions enables one to use it to prepare several types of meals

Large bowl capacity of 1.7L. This increases the amount of soup that can be prepared at a go.

It has several safety setting including a built in micro switch to prevent accidents and spills.

It comes with 1-Year warranty.
Aztech soup maker is not just a soup maker as it can be used for a variety of functions including blending, pulsing and cooking. Some of its other uses include;
Boiling rice

Steaming eggs

Making cocktails, smoothies and sauce

Crushing ice

Reheater

Boiler

Cooker
For easy serving, it has a detachable jar. Additionally, its sleek finish with modern and easy to use controls make it the ideal complement to your kitchen. When it comes to cleaning, you should not worry as it comes with a complimentary brush and scrub.  Order your Aztech Multifunction Soup Maker ASM800 today to enjoy the greater discount.
There is no product to show