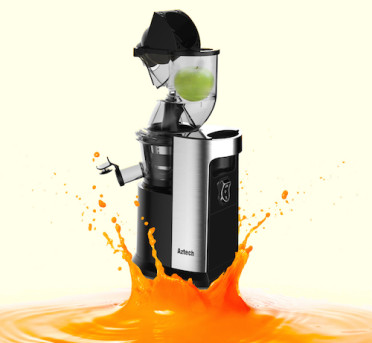 To start your new day with a glass fresh juice,you should own an excellent slow juicer in your kitchen worktop. Let's see the advantage of Aztech latest slow juicer, JuiceMAGNUM ASJ2000.
40RPM/min,Low speed keep the nutrition,reduce the oxidation.

Low noise level less than 65db

AC motor

Can squeeze a whole apple,save your time and easy to operate.

Longer auger,make the machine work more stable.

Safe lock for the lid,avoid the machine working in the unnormal situation.

3 fixing block,make the the bowl stable during working.

Juice ejection,avoid the juice quickly oxidating.

Pulp ejection,pulp be separated automatically.
MAGNUM Slow Juicer is good, but we are not suggesting you replace the regular daily consumption of fruits and vegetables with juicing… they should be done in conjunction Consuming whole fruits and vegetables daily helps you get the much needed fiber they have to offer Juicing is just a quicker way to get many of the health benefits you need from fresh food, including antioxidants and nutrients that help your body stay healthy. It just eliminates the digestion process for quicker absorption.