Description

Sleeping habits are one of the most personal things we have developed as individuals over the years. So why compromise when it comes to choosing a pillow? We may have the perfect mattress already, but why spoil that perfect night's sleep with the wrong pillow? After all, the investment in the perfect pillow is a much smaller one than a mattress, but the wrong pillow would just put any investment to waste!
Here at Naturatex, we understand the distinct requirements for an individual's sleeping habit. That's why we have exclusively designed pillows by Sleep Synergy. Side Sleepers have very distinctly different requirements from back sleepers, as they need significant body contouring to relieve pressure from the shoulders, hips, thighs and knees. However, they also need enough support for the waist and also just as importantly, the head and neck whilst sleeping on their sides.
This is where our Basic Side Sleeper comes to the fore. Specifically tuned for more contouring, whilst providing a higher profile to support the head and neck to fill up the void between the side of the head and the shoulders, our Basic Side Sleeper pillow is the perfect solution for you side sleepers!
Cool breathable natural latex

Basic high profile suited for side-sleepers, to properly support the neck as the distance between the head and the shoulder requires a higher profile pillow whilst side-sleeping

Micro pin-hole array for increased ventilation while maintaining high surface area for superior pressure-relieving surface-contouring comfort and support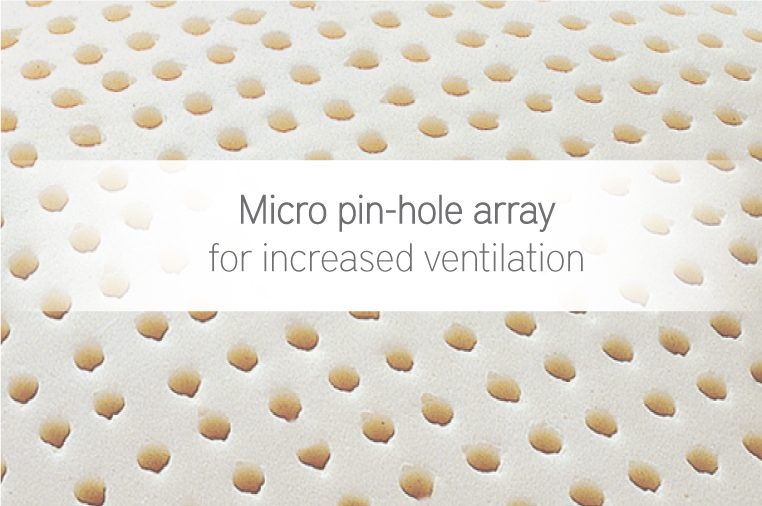 Turn-free

Sag-free

Stretch knitted fabric outer cover

Anti-dust mite