Description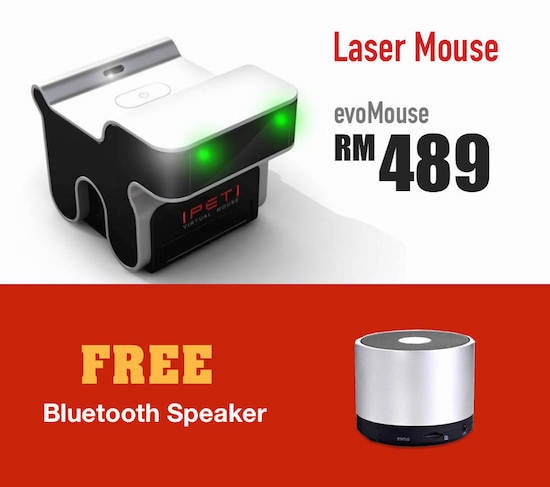 Your finger is your pointer and there is no more pushing around a physical mouse.
Easy and convenient: Setting up evoMouse is quick and simple and requires very little space. It connects via standard USB port without installing software.
Multi-touch : In addition to common mouse operations, evoMouse recognizes multiple gestures when connected to supported devices.

Ergonomic: it allows natural movements and doesn't require pushing around a physical object, evoMouse® may help reduce repetitive stress injuries.
Features 
Turn any flat surface into a touch pad!
EvoMouse works with all Windows and Mac OS X operating systems.
EvoMouse recognizes multi-touch gestures: scroll, right-click, pinch zoom in and out. Page forward and back is available on Internet Explorer browser.
Specifications
Model: evoMouse
Gesture Recognition
USB Plug-and-Play
Windows XP and later
Mac OS X 10 and later
Dimension: 37mm*38mm*48mm
Projection Area: 16*12cm (7cm away from the device)
Operating Surface: Flat & Opaque Surface
Weight: 50g
Light Source: Infrared Laser Diode
Multi-touch is compatible with Windows 7, Windows 8, and Mac OS X 10+ operating systems
What's in the box? 
1 x Celluon EvoMouse
1 x micro USB cable
1 x User guide
Warranty